Description
Side impact protection formed by a deep foam-lined shell.

Impact-absorbing base compresses to reduce the rough force of a collision.

Impact-stabilising steel frame offers superior strength where you need it most: at the connection point to the vehicle.

V-shaped tether minimises seat rotation with a unique two-strap design.

Britax-patented staged-release stitches slow the seat's forward movement during a crash.

Impact-absorbing harness pads adsorb energy and reduce your child's forward movement during an impact.

Proudly engineered, tested and made in the USA with global components for top safety and quality.
ClickTight Installation System makes safe installation as easy as buckling a seat belt.

7-position recline makes for easy angle adjustment.

Automatic level indicators lets you know the seat is angled correctly in your car.
No-rethread 12-position harness quickly adjusts with the push of a button as your child grows.

Quick-adjust 2-position buckle easily moves outward as your child gets bigger.

Removable body pillow adds comfort and can be removed when your child outgrows it.

Premium plush foam padding and fabrics for comfort.
EZ-buckle system keeps buckles and straps out of your way when positioning your child.

Easy-remove cover pulls free of the car seat for cleaning without having to remove the harness.
SAFECELL IMPACT PROTECTION
Superior Protection, Only from Britax
Britax is the only child car seat brand that features world-class SafeCell Impact Protection. This integrated system of safety components provides unmatched protection for your child. These features include a steel frame, energy-absorbing base, V-shaped tether and impact-absorbing harness to minimize seat rotation and staged-release stitches that slow and reduce forward movement during a crash.
SIDE IMPACT PROTECTION
Side impacts represent 25 percent of collisions. In fact, it's these accidents that result in the most severe injuries. We designed the Marathon ClickTight with these statistics in mind. The seat has a deep foam-lined shell to absorb energy and shield your child from side impacts.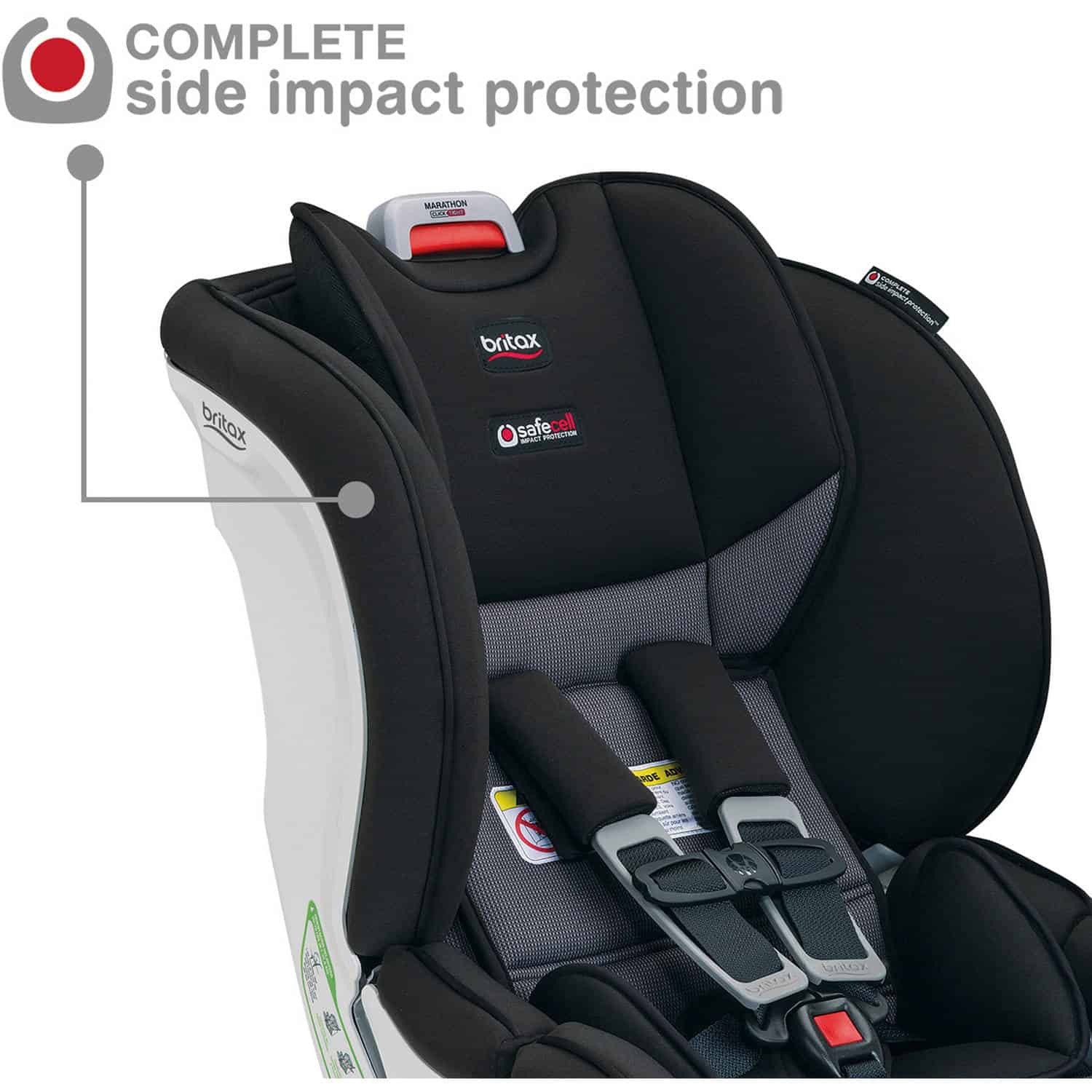 THE SAFEST AND EASIEST INSTALLATION
CLICKTIGHT INSTALLTION SYSTEM
FAST. EASY. SECURE.
Typically up to 75 percent of car seats are installed incorrectly, but our revolutionary ClickTight Installation System is the safest and simplest technology on the market. The ClickTight Installation System offers an easy and safe way to install your child's car seat without the weight, seat or belt's limits of LATCH.
Just open the front of the car seat, buckle the seat belt across and click the seat shut. That's all you need to do for rock-solid installation – the seat won't budge and you can travel worry-free with your child.
7-POSITION RECLINE
The multiple recline positions make it easy to find the proper angle for installing your child's car seat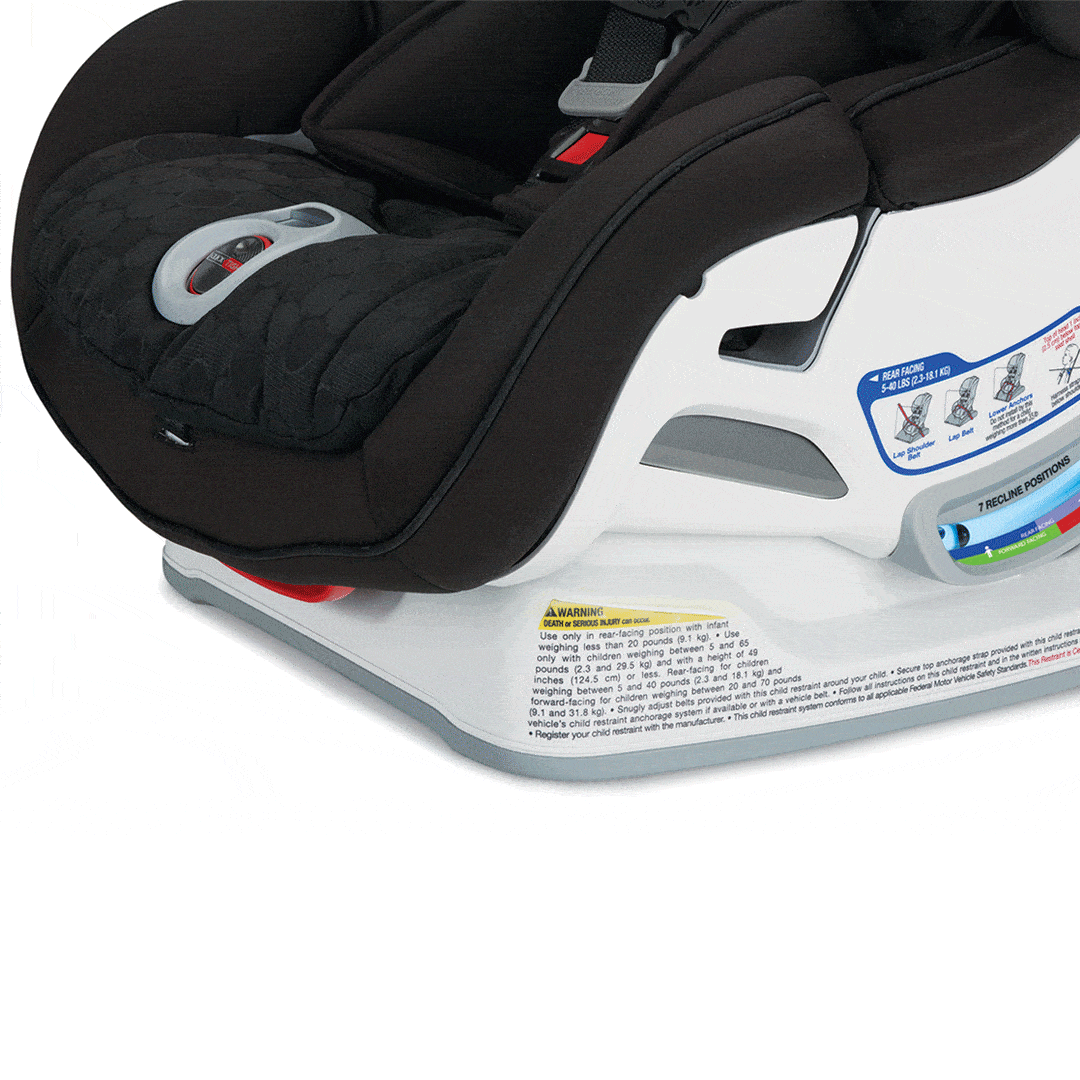 AUTO-LEVEL INDICATORS
The automatic level indicators shows that your child's seat is at the proper installation angle for your vehicle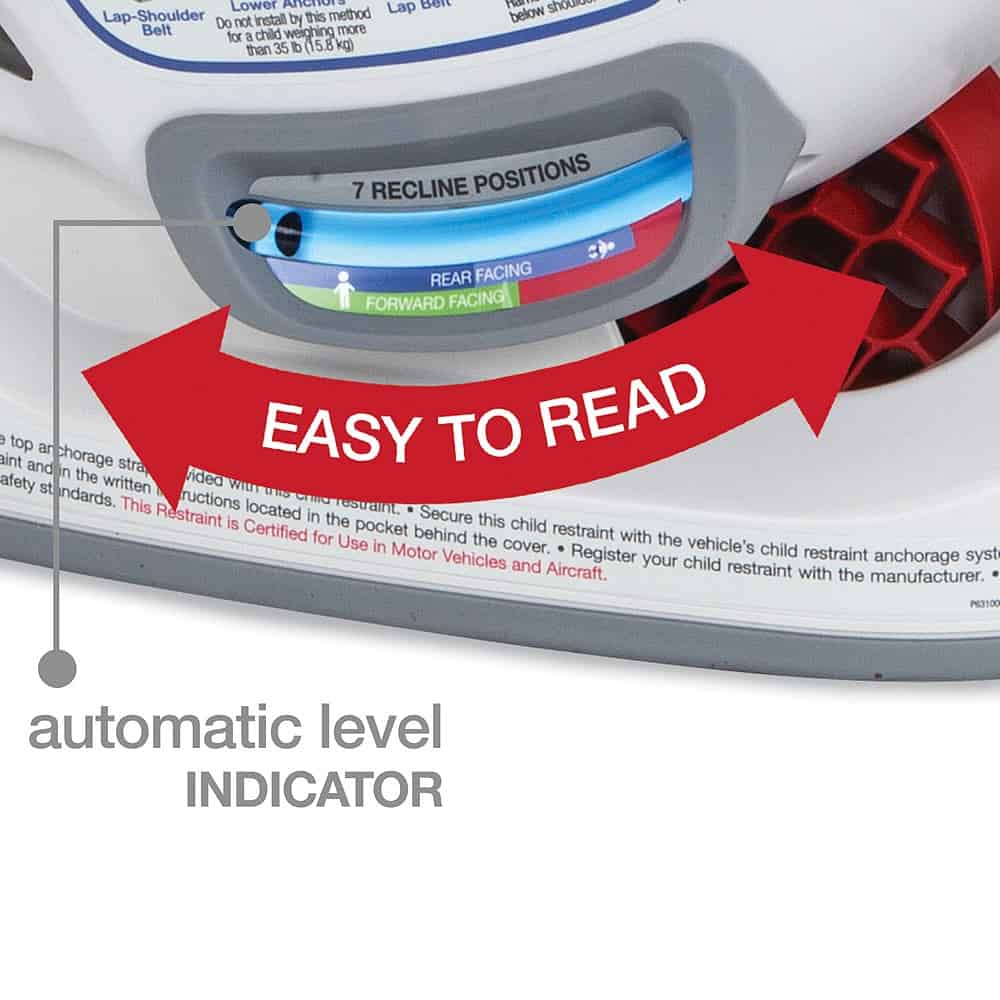 EASY-ADJUST, 12-POSITION HARNESS
We developed the Marathon ClickTight to safely and comfortably hold your child from birth all the way through the preschool years. The easy-adjust harness grows along with your child with 12 different positions. Change the height of the seat with just the push of a button – no inconvenient rethreading necessary.
QUICK-ADJUST, 2-POSITION BUCKLE
The Marathon ClickTight buckle can be quickly adjusted outwards in 2 positions to ensure the correct fit for your growing child.
REMOVABLE BODY PILLOW
Marathon ClickTight's body pillow adds comfort and can be removed when your child outgrows it. It is made from premium plush foam padding and fabrics - ensures maximum comfort and a relaxing journey.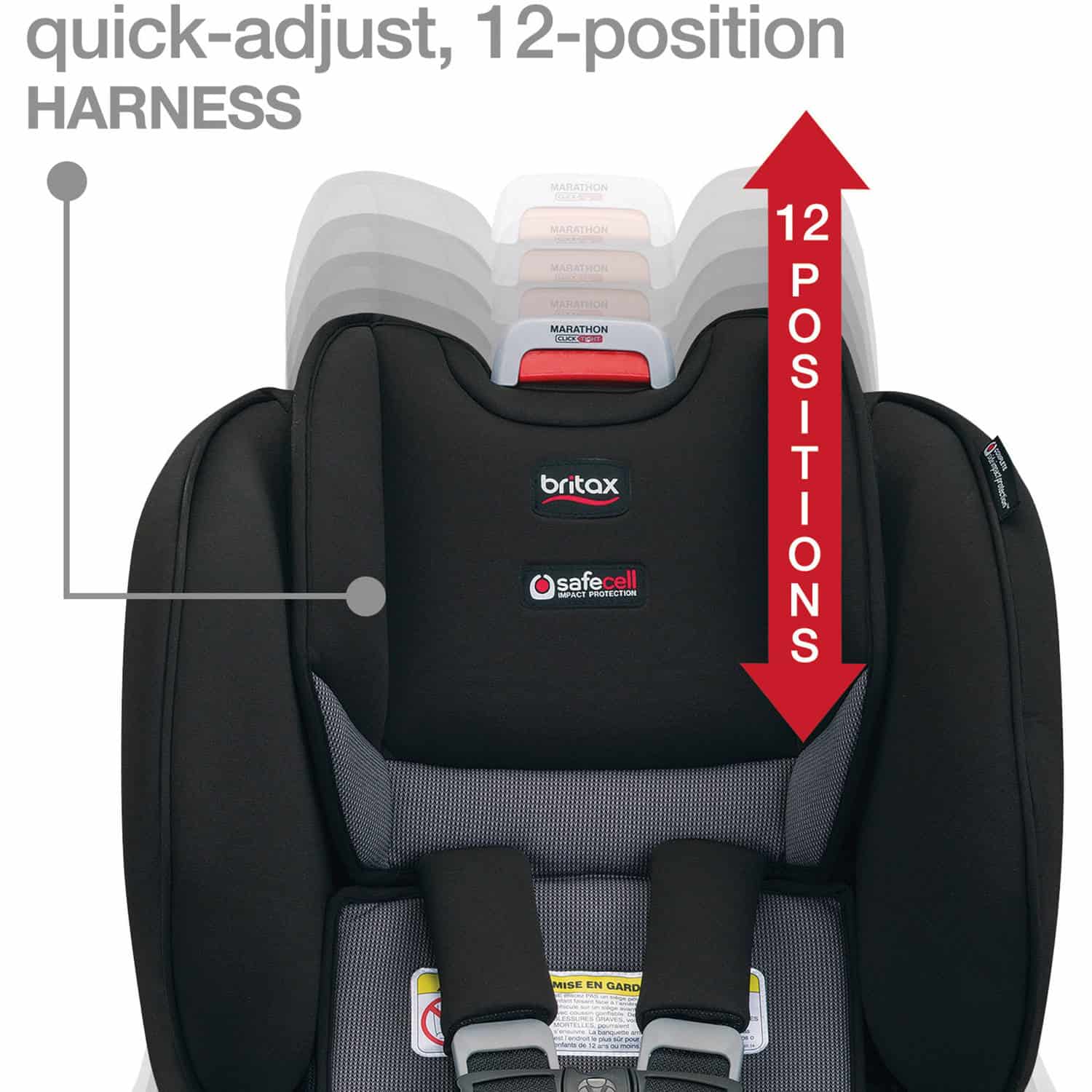 EZ-BUCKLE SYSTEM
The Marathon ClickTight is designed intelligently for convenient use. Our EZ-buckle system keeps the buckles and straps out of your way when positioning your child.
EASY-REMOVE COVER
Remove your car seat cover easily and quickly without the hassle of having to remove your harness.