Description
The Frontier ClickTight is a top-selling seat that pairs an extra layer of side impact protection along with the super-easy ClickTight Installation System – so you know your child is always properly secured.
SUPERIOR PROTECTION
2 layers of side protection formed by a deep foam-lined shell and quick-adjust head protection.
Impact-absorbing base compresses to reduce the rough force of a collision.
Impact-stabilizing steel frame offers superior strength where you need it most: at the connection point to the vehicle.
V-shaped tether minimizes seat rotation with a unique two-strap design.
Britax-patented staged-release stitches slow the seat's forward movement during a crash.
Impact-absorbing harness pads slow your child's forward movement during a crash.
Compatible with SecureGuard Clip (sold separately) to keep proper seatbelt alignment over hips and prevent children from sliding under the seatbelt in booster mode.
Aircraft travel-certified when in harness mode.
Proudly engineered, tested and made in the USA with global components for top safety and quality.
SAFEST AND SIMPLEST INSTALLATION
ClickTight Installation System makes safe installation as simple as buckling a seat belt.
Easy-on/off lower anchors for an alternative installation method.
SMART DESIGN
Hassle-free transition from harness to booster mode by tucking away straps in the seat.
Easy-buckle system keeps buckles and straps out of your way when positioning your child.
Easy-remove cover pulls free of the car seat for cleaning without having to remove the harness.
Cup holders and storage for drinks, food and toys.
ClickTight Installation System
The safest and easiest installation every time so you can be certain your loved one is safe
Safeguards your child with an extra layer of side impact protection, an impact-absorbing base and steel frame
Easily adjusts with the push of a button – no need to rethread the harness
Wraps your child in comfort with premium padding and fabrics Includes car seat and removable harness padding.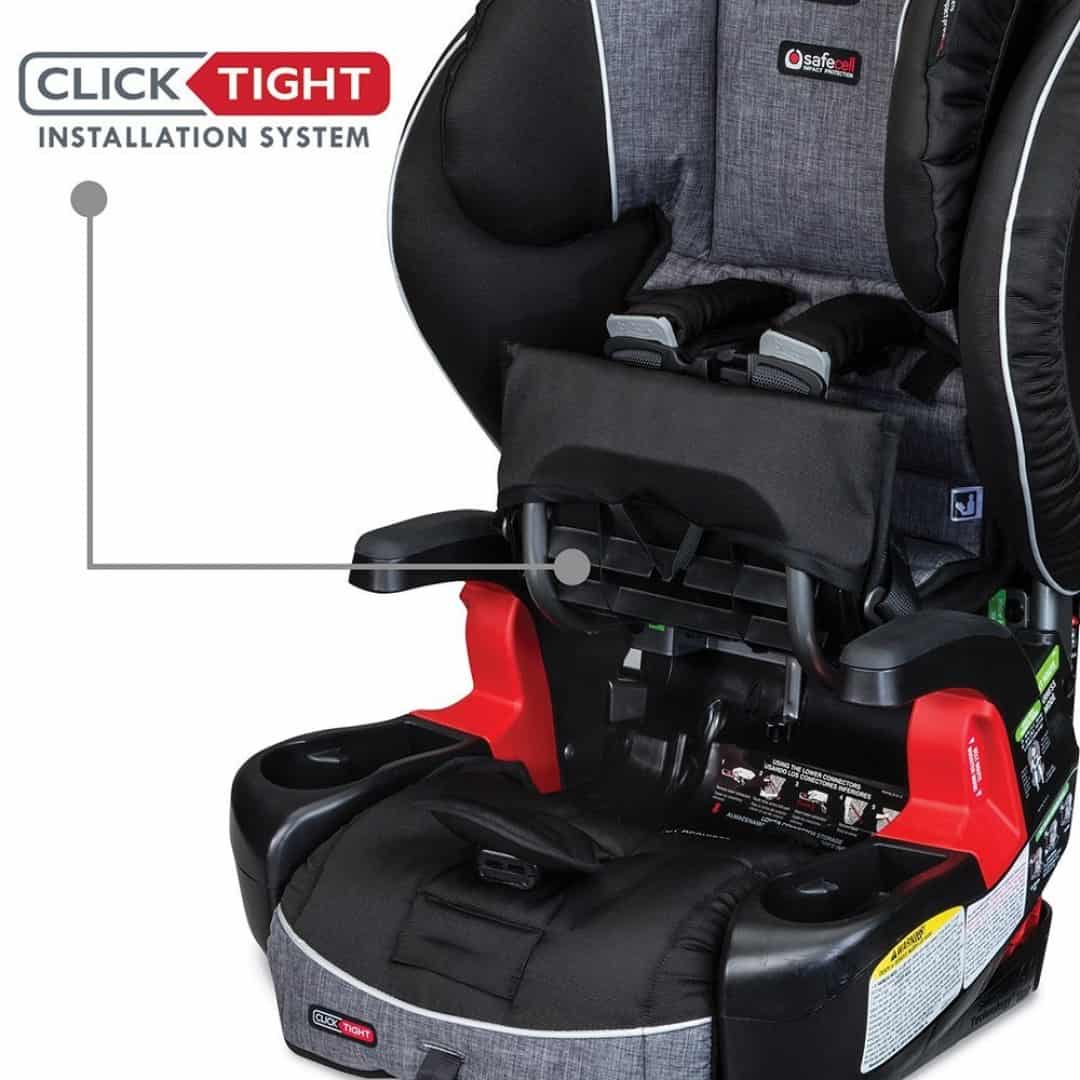 Typically up to 75 percent of car seats are installed incorrectly, but our revolutionary ClickTight Installation System is the safest and easiest technology on the market. Just open the front of the car seat, buckle the seat belt across and click the seat shut. That's all you need to do for rock-solid installation – the seat won't budge and you can travel worry-free with your child.
SafeCell Impact Protection
Superior Protection, Only from Britax
Britax is the only child car seat brand that features world-class SafeCell Impact Protection. This integrated system of safety components provides unmatched protection for your child. These features include a steel frame, energy-absorbing base, V-shaped tether to minimize seat rotation and staged-release stitches that slow and reduce forward movement during a crash.
Extra Layer of Side Impact Protection
Side impacts represent 25 percent of collisions and result in the most severe injuries. We designed the Boulevard ClickTight with not 1, but 2, strong layers of side energy absorption. A deep foam-lined shell and quick-adjust head protection shield your child from side impacts.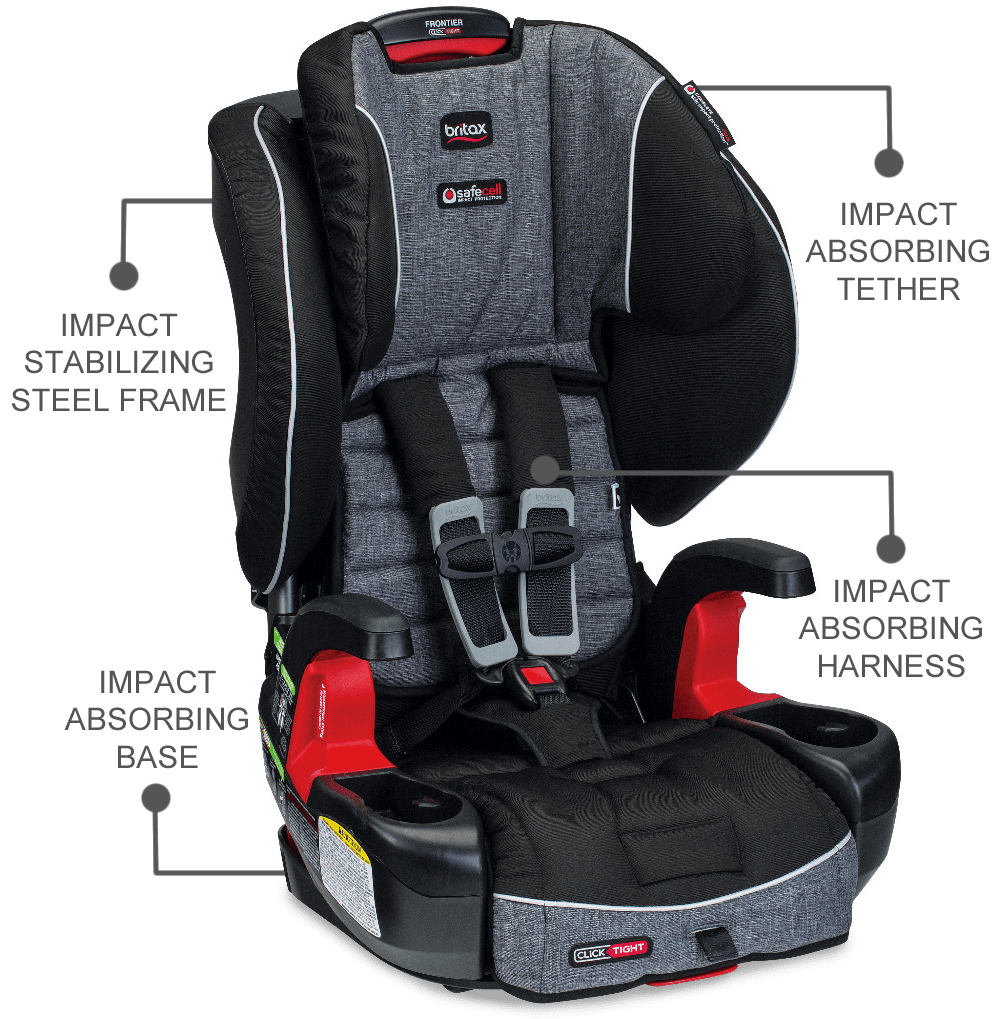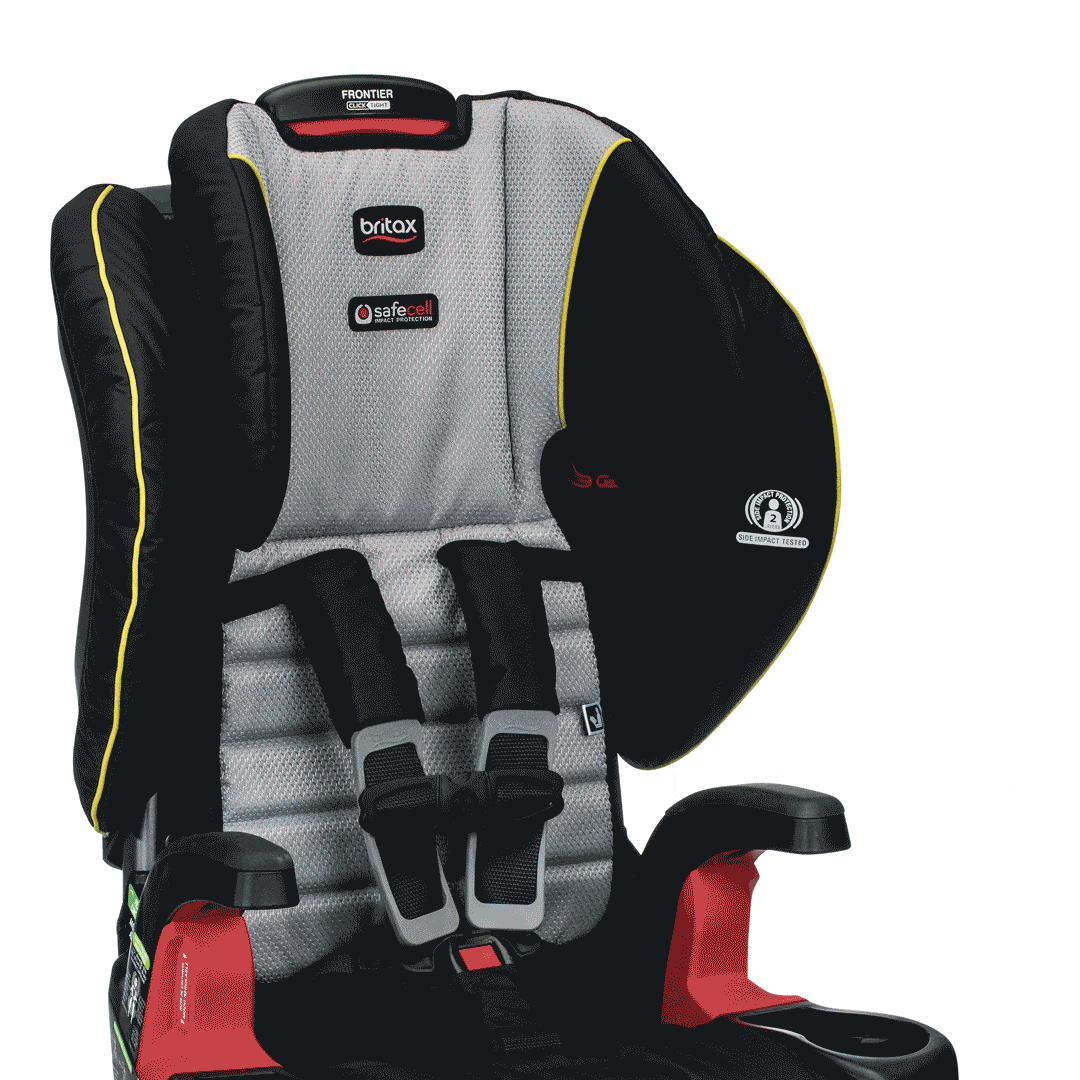 Smart Design
Harness-2-booster seats play double duty by offering 2 seating modes. Harness mode is for holding smaller children starting at 25 lbs and up to 90 lbs. Then the seat can transition into a traditional booster once your big kid is ready. These transitions are easy and don't require you to unthread the harness. Simply tuck the straps into the interior of the seat.
Maximum Fit and Comfort
We developed the Frontier ClickTight to safely and comfortably hold your child from preschool through the elementary school years. The easy-adjust harness grows along with your child with 9 different positions. Change the height of the seat with just the push of a button – no inconvenient rethreading necessary. And the plush fabrics and multi-position recline allow your child to relax in comfort.